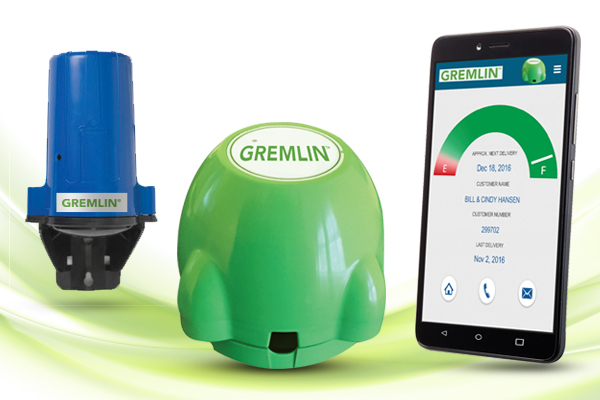 Ft Lauderdale, FL. May 22, 2017 – Angus Monitoring Service, LLC announced that it has added a propane version to its popular Gremlin tank monitor lineup. Propane models will work off either Cellular or RF connections, and come at a much lower price point than competitor's models.
"Our goal is to make monitors so affordable and reliable that marketers will be able to put them on all tanks, or certainly many more tanks, and dramatically drive down delivery costs while increasing customer loyalty," said Angus CEO Phil Baratz. Baratz said that what makes the Gremlin unique is that the company took the opportunity to learn from the products that preceded it to the marketplace and came up with a solution that includes "the latest technology, at half the cost." Baratz further explained, "We needed a 'best in class' unit for one of our solutions. We found a manufacturer in Ireland who had more than 1.5 million units in the field, so the track record and reliability were already there. But then we gave them new, enhanced specifications that make this a much more valuable solution to propane marketers. "
The propane Gremlin, along with its heating oil counterpart, features integration directly into most popular back office software systems, so there is no added complication to the normal dispatching process. It comes with an extended battery life, and the ability to customize the reporting settings on each individual unit. It can be set up in as little as five minutes.
Gremlin monitors also feature a consumer app that allows customers to see their tank level right on their smartphone, check their usage history, and call, email or go to their company's website at the tap of a button. "We've found the app has tremendous appeal to both automatic and will call accounts, but for very different and interesting reasons, "said Baratz.
Gremlin monitors are now being used by fuel companies with as few as 3,000 customers as well as companies with more than 750,000 customers. You can find out more about the Gremlin solution by going to http://angusenergy.com/gremlin/, calling 800.440.0472 or emailing Angus at solutions@angusenergy.com.
Angus Monitoring Service, LLC parent Angus Energy began operations in 1991 providing risk management (hedging) assistance to family-owned heating oil distributors. Since that time, the company's client base has grown to include small to large, public and private sellers and consumers of energy products. Angus' suite of solutions addresses the specific, and often unique, challenges in the retail energy space ranging from derivative transactions to SaaS-based operational and financial Business Intelligence reporting. The company offers financial consultative services as well as the sale of physical natural gas in South Florida. Most recently, Angus' Paygo™ division introduced industry-leading tank monitors for both propane and heating oil dealers which further the company's mission to improve the profitability and operational excellence of the clients it serves.
Mark Bloom
Director of Marketing
Angus Energy
954-564-7500
mbloom@angusenergy.com
Disclaimer: When applicable, advice from Angus Energy may include a discussion about risk mitigation via commodity and/or weather hedging. PAST RESULTS ARE NOT NECESSARILY INDICATIVE OF FUTURE RESULTS. The risk of loss in trading commodity interests can be substantial. You should therefore carefully consider whether such trading is suitable for you in light of your financial condition. In considering whether to trade or to authorize someone else to trade for you, you should be aware that you could lose all or substantially all of your investment and may be liable for amounts well above your initial investment.